Attention 6th-12th Grade School Leaders!
Empower your students to take action
by bringing Global Nomads Group's virtual education event to your school!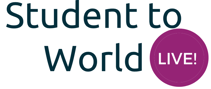 We know you have so much to focus on right now, so let us do the work! Global Nomads Group will connect with your students to facilitate a discussion on a global issue, expand their perspectives with authentic stories created by youth from around the world, and empower them to take action.
*Please note: these events are for groups of 50 or more youth.
Here's how to get started!
1. Choose a theme that resonates with your students: Overcoming Bias, Global Hunger, Art in Action, Ocean Health, Pandemic, Mental Health, Women's Rights, Sports, or Human Rights.
2. Choose your structure and date(s). GNG can facilitate a full 90-minute presentation with your students and then you guide them through the final action plan OR GNG can facilitate an abbreviated presentation in two 45-minute sessions and complete the action plan with your students (*recommended for younger students).
3. Prepare! After you complete the form, we'll reach out via email to confirm all the details. Be sure to share dates 2 weeks out. We'll send an overview of the program to share with students before the event.
4. Connect! All students should connect on their own device with headphones and have their cameras on to ensure full participation and engagement. The event will shift between whole group and facilitated small group breakout rooms to give each student the opportunity to share their voice.
5. Plan for Action! If you chose the 90 minute full presentation, be sure to guide students through the creation of an action plan and prompt them to share it with their global peers on our online platform (Canvas LMS). If you chose the two abbreviated presentation, GNG will guide your students through during the second session.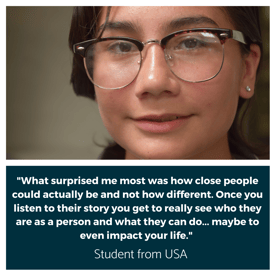 In this FREE event, your students will:
Expand their global perspectives
Create community action plans
Learn about real-world global issues
Engage with stories created by youth from around the world
---
Since 1998, Global Nomads Group (GNG) has engaged over 1 million youth in 60 countries with its innovative, teen-centered programs. GNG has developed future leaders and global citizens - youth who are empathetic, globally aware, and able to take positive action in their communities. Join our community!