6' feels like a vast divide right now. Student to World builds
bridges

from 6' to 6,000 miles!

In this interactive program, your teen will join thousands of their peers around the world to:
Explore issues that matter to them most
Share stories from their own life
Learn about their global peers
Deepen their global awareness
Embrace our shared humanity
Student to World is:
Safe: Private, secure online platform
Teen-centered: Ages 13-18
Online: Mobile, tablet, laptop
Flexible: Start and stop anytime
Self-directed: Teens navigate independently, selecting themes & resources of interest to them
Content-rich: 12-18 hours of activities & resources per theme
Supported: Videos and reminders from highly trained staff
JOIN Student to World NOW - Free of charge!
Gain access to all three themes: Art in Action, Global Hunger, and Ocean Health (Global Pandemic theme available soon!)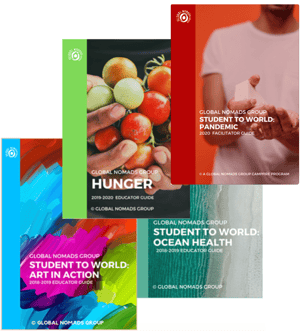 Since 1998, Global Nomads Group has partnered with hundreds of classrooms annually engaging thousands of teens around the world in its innovative, teen-centered programs that have developed future leaders and global citizens - ones who are empathetic, globally aware, and able to take positive action in their communities.
Now, these innovative online programs are available at home!!
Register today by completing the form on this page!
We look forward to welcoming your teen in our global experiences!